ELAC Celebrates Hispanic Heritage Month
October 10, 2022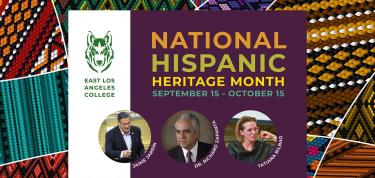 ELAC is celebrating National Hispanic Heritage Month by highlighting a few individuals who have made a lasting impact. We as a campus honor these and so many other Hispanic trailblazers, educators, scientists, artists, activists, writers, and professionals who help make our communities more resilient & equitable.
Jaime Jarrín
The Ecuadorian-born Jarrín is known as the Spanish voice of the Los Angeles Dodgers. Jaime started broadcasting in his home country when he was just 16 years old. When he moved to the United States in 1955, he had never seen a baseball game, but in only three years, he found himself on the Spanish broadcast team for the first Dodgers season in Los Angeles. That was the start of one of the longest tenures for any sports broadcaster spanning 64 full seasons. In 1998, Jarrín received the Ford C. Frick Award from the Baseball Hall of Fame, becoming the second Spanish-language broadcaster to win that award. In February 1998, Jarrín was the first recipient of the Southern California Broadcaster Association's President's Award. Also, in 1998, he was honored by the National Association of Hispanic Journalists with their highest award and received a star on the Hollywood Walk of Fame.
---
Dr. Richard Zapanta
Born in 1946, Dr. Zapanta attended ELAC after graduating from Garfield High School. An avid art collector who amassed a trove of paintings and artifacts, he served on the ELAC's Vincent Price Art Museum Foundation board. True to his roots, Dr. Zapanta had long been committed to the cause of education in the Hispanic community. Dr. Zapanta was a founding member of the USC Mexican-American Alumni Scholarship Fund, has given 7,500 scholarships, and raised more than $14 million. He frequently mentored high school, college, and medical students and encouraged students to strive continually for a better education. Dr. Zapanta's and his wife Rebecca's passion for Mexican art resulted in a unique and well-recognized collection of 20th-century Mexican art, amassed over 30 years, that included examples of nearly all the relevant styles and primary figures. Many pieces of their group have been displayed at the Vincent Price Art Museum over the years.
---
Tatiana Bilbao
Tatiana, born in Mexico City, is a Mexican architect whose works often merge geometry with nature. Her practice usually focuses on social housing and sustainable design. Her diverse work includes the Botanical Garden in Culiacán, a master plan and open chapel for a Pilgrimage Route in Jalisco, a Biotechnological Center for a Tech Institution, a sustainable housing prototype, and a funeral home. Bilbao has worked to create low-cost housing to solve Mexico's social housing problem. So far, Bilbao has built 32 houses for this program which helps low-income individuals afford their own homes. Bilbao is also a professor at Yale University and has previous teaching experience at Harvard University.